Lolas' and Duncans' Home Made Dog Food
My daughter had an issue with her dogs weight, and it was hot this summer so they also were getting hot spots. She did a lot of research and tried many home remedies but it was a very slow process. At one point she had the dogs wearing neck collars to keep them from licking the hot spots.
After a few trips to the vet she found that the dogs had yeast infections, but the cause was unknown.
She decided after the infection was cured she would try a natural home made dog food to see if that would prevent this from happening again.
The results were amazing. Lola lost 7 pounds and her coat became smooth and shinny. Duncan had always been a slim dog and never liked the store dog food. He became excited about eating and his energy doubled. I have read some diets that say to add a supplement but my daughter has had such great results that she has not added supplements yet.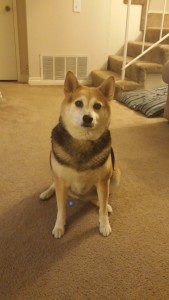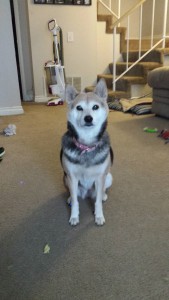 Lola before the diet.                                   Lola after the diet.
Here is the all natural home made dog food recipe she used:
Ingredients:
1 lb ground beef

1/2 lb ground chicken

1/2 lb ground turkey

1 lb baby carrots

2 small sweet potatoes

1 can of green beans


1/2 cup of lentils

3 cups brown rice

3 eggs, slightly beaten, with shells

3 cups chicken broth

2 cups water
Directions:
Cook all 3 ground meats together in larger 6 quart dutch oven.


Add rice, chicken broth and water.  Cook on medium heat for 30 minutes.

Add potatoes, carrots, beans, lentils, and slightly beaten eggs.
Cook for an additional 20 - 30 minutes.
After cooking, put mixture into storage containers. This freezes very well.
Nutrition Info:
Serving Size: 1 (146 g)
Servings Per Recipe: 24
Calorie18
Calories from Fat 5
Total Fat 5.8 g
Saturated Fat 1.9
Cholesterol 50.8 mg
Sodium 143.2 mg
Total Carbohydrate 21.6 g
Dietary Fiber 1.5 g
Sugar 1.3 g
Protein 10.6 g