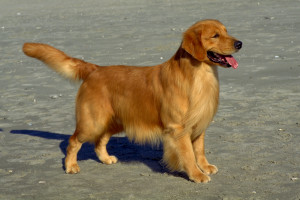 The Golden Retriever is a large-sized breed of dog bred as gun dogs to retrieve shot waterfowl such as ducks and upland game birds during hunting and shooting parties, and were named 'retriever' because of their ability to retrieve shot game undamaged.
Golden Retrievers have an instinctive love of water, and are easy to train to basic or advanced obedience standards. They are a long-coated breed, with a dense inner coat that provides them with adequate warmth in the outdoors, and an outer coat that lies flat against their bodies and repels water. Golden Retrievers are well suited to residency in suburban or country environments.
Although they need substantial outdoor exercise, they should be housed in a fenced area because of their instinctual tendency to roam. They shed copiously, particularly at the change of seasons, and require fairly regular grooming.
Coat and color
As indicated by their name, their coats occur in light golden to dark golden colours. The topcoat is water-resistant and slightly wavy, and sheds in small amounts throughout the year. The undercoat is soft and keeps the retriever cool in summer and warm in winter; it sheds in the spring and fall. It usually lies flat against the belly.
The Golden's coat should never be too long, as this may prove to be a disservice to it in the field, especially when retrieving game. Golden Retrievers have mild feathering on the backs of their fore legs and heavier feathering on the fronts of their necks, backs of their thighs and the bottoms of their tails.
The American Kennel Club (AKC) standard states the coat is a "rich, lustrous golden of various shades", disallowing extremely light or extremely dark coats. This leaves the outer ranges of coat color up to a judge's discretion when competing in conformation shows. Therefore, "pure white" and "red" are unacceptable, as is black. The Kennel Club (UK) also permits cream as an acceptable coat color. Judges may also disallow Golden's with pink noses, or those lacking pigment.

The Goldens coat can also be mahogany, referred to as "redhead", although this is not accepted in the British show ring. Golden grows older, its coat can become darker or lighter, along with a noticeable whitening of the fur on and around the muzzle. Puppy coats are usually much lighter than their adult coats, but a puppy with darker ear tips may indicate a darker adult color.
   Golden Retrievers vary in color,

                                         with a fair-haired dog shown here beside a mahogany one.

 

   The coat is "rich, lustrous golden of various shades"

 

  A four-month-old white golden retriever.

 

   A light golden puppy.

 

    A dark golden coat.

 
Temperament
The Golden Retriever is instinctively fond of swimming, owing to its history as a game retriever.
The temperament of the Golden Retriever is a hallmark of the breed, and is described in the standard as "kindly, friendly and confident". Golden Retrievers make good family pets, particularly as they are patient with children. They are not "one-man dogs" and are generally equally amiable with both strangers and those familiar to them. Their trusting, gentle disposition makes them a poor guard dog. Any form of unprovoked aggression or hostility towards either people, dogs or other animals, whether in the show ring or community, is considered unacceptable in a Golden Retriever and is not in keeping with the character of the breed, nor should a Golden Retriever be unduly timid or nervous. The typical Golden Retriever is calm, naturally intelligent and biddable, and with an exceptional eagerness to please.
Health and lifespan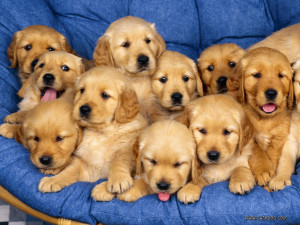 The average lifespan for a Golden Retriever is about 11 to 12 years. They are susceptible to specific ailments, so should be taken to a veterinarian for yearly checkups.
Golden Retrievers are known to have genetic disorders and other diseases. Hip dysplasia is common in the breed; when buying a puppy, the pedigree should be known and be examined by the OFA or by PennHIP for hip disease. Obesity is also common in the breed because Golden Retrievers love to eat. Puppies should eat about three cups of food a day and adults three to five cups, depending on the food and how active the dog is.
Golden Retriever

Origin

Scotland

Traits

Weight

Male

65–75 lb (29–34 kg)

 

Female

55–65 lb (25–29 kg)

Height

Male

22–24 in (56–61 cm)

 

Female

20-22 in (51-56 cm)

Coat

straight or moderately wavy

Color

any shades of gold or cream

Life span

average 10-12 years

Classification / standards

FCI

Group 8, Section 1 #111

standard

AKC

Sporting

standard

ANKC

Group 3 (Gun dogs)

standard

CKC

Group 1 – Sporting dogs

standard

KC (UK)

Sporting dog

standard

UKC

Sporting and fishing