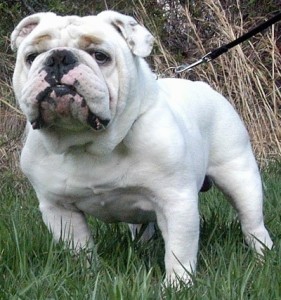 The Bulldog is a medium-sized breed of dog commonly referred to as the English Bulldog or British Bulldog. Other Bulldog breeds include the American Bulldog, Old English Bulldog (now extinct), Leavitt Bulldog, Olde English Bulldogge, and the French Bulldog. The Bulldog is a muscular, hefty dog with a wrinkled face and a distinctive pushed-in nose.[4] The American Kennel Club (AKC), The Kennel Club (UK), and the United Kennel Club (UKC) oversee breeding records. Bulldogs were the fourth most popular purebreed in the United States in 2015 according to the American Kennel Club.
Description
Appearance
The Bulldog is a breed with characteristically wide head and shoulders along with a pronounced mandibular prognathism. There are generally thick folds of skin on a Bulldog's brow; round, black, wide-set eyes; a short muzzle with characteristic folds called a rope or nose roll above the nose; hanging skin under the neck; drooping lips and pointed teeth, and an underbite with an upturned jaw. The coat is short, flat, and sleek, with colours of red, fawn, white, brindle, and piebald.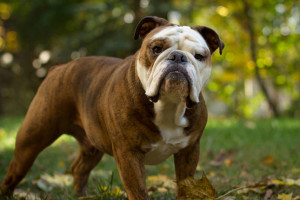 In the United Kingdom, the breed standards are 50 lb (23 kg) for a male and 40 lb (18 kg) for a female. In the United States, a typical mature male weighs 45–55 lb (20–25 kg), while mature females weigh about 45 lb (20 kg). The BCA recommends the average weight of a bulldog to be 40–50 lb (18–23 kg).
Bulldogs are one of the few breeds whose tail is naturally short and either straight or screwed and thus is not cut or docked as with some other breeds. A straight tail is a more desirable tail according to the breed standard set forth by the BCA if it is facing downward, not upwards.
Temperament
According to the American Kennel Club (AKC), a Bulldog's disposition should be "equable and kind, resolute, and courageous (not vicious or aggressive), and demeanor should be pacific and dignified. These attributes should be countenanced by the expression and behavior".
Wide stance
Breeders have worked to reduce/remove aggression from these dogs. Most have a friendly, patient nature. Bulldogs are recognized as excellent family pets because of their tendency to form strong bonds with children.
Generally, Bulldogs are known for getting along well with children, other dogs, and pets. They can become so attached to home and family, that they will not venture out of the yard without a human companion. They are also more likely to sleep on someone's lap than chase a ball around the yard.
Health
Bulldog puppy                                                                                                 White-Red Bulldog   
A 2004 UK survey of 180 Bulldog deaths puts the median age at death at 6 years 3 months. The leading cause of death of Bulldogs in the survey was cardiac related (20%), cancer (18%), and old age (9%). Those that died of old age had an average lifespan of 10 to 11 years. A 2013 UK vet clinic survey of 26 Bulldogs puts the median lifespan at 8.4 years with an interquartile range of 3.2–11.3 years. The UK Bulldog Breed Council website lists the average life span of the breed as 8–10 years.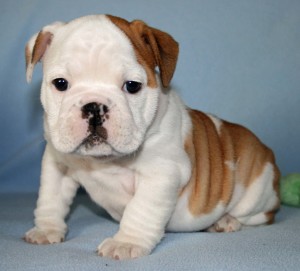 Statistics from the Orthopedic Foundation for Animals indicate that of the 467 Bulldogs tested between 1979 and 2009 (30 years), 73.9% were affected by hip dysplasia, the highest amongst all breeds. Similarly, the breed has the worst score in the British Veterinary Association/Kennel Club Hip Dysplasia scoring scheme, although only 22 Bulldogs were tested in the scheme. Patellar luxation affects 6.2% of Bulldogs.
Some individuals of this breed are prone to interdigital cysts—cysts that form between the toes. These cause the dog some discomfort, but are treatable either by vet or an experienced owner. They may also suffer from respiratory problems. Other problems can include cherry eye, a protrusion of the inner eyelid (which can be corrected by a veterinarian), allergies, and hip issues in older Bulldogs.
Over 80% of Bulldog litters are delivered by Caesarean section because their characteristically large heads can become lodged in the mother's birth canal. The folds, or "rope", on a Bulldog's face should be cleaned daily to avoid infections caused by moisture accumulation. Some Bulldogs' naturally curling tails can be so tight to the body as to require regular cleaning and ointment.
Like all dogs, Bulldogs require daily exercise. If not properly exercised it is possible for a Bulldog to become overweight, which could lead to heart and lung problems, as well as stress on the joints.
Bulldog

Other names

British Bulldog,




English Bulldog,

Origin

England

Traits

Weight

Male

50–55 lb (23–25 kg)

 

Female

40–50 lb (18–23 kg)

Coat

Short, straight, fine and smooth

Color

Brindle; solid white, red, fawn or yellow; piebald.

Life span

3–10 years

Classification / standards

FCI

Group 2, Section 2 #149

standard

AKC

Non-sporting

standard

ANKC

Group 7 (Non Sporting)

standard

CKC

Group 6 – (Non-Sporting)

standard

KC (UK)

Utility

standard

NZKC

Non Sporting

standard

UKC

Companion

standard

Notes

National animal of Britain