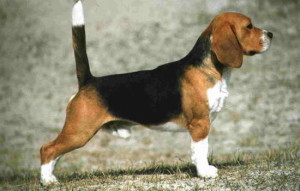 The Beagle is a breed of small-sized hound, similar in appearance to the much larger foxhound. The Beagle is a scent hound, developed primarily for hunting hare. With a great sense of smell and their tracking instinct, the Beagle is employed as detection dog for prohibited agricultural imports and foodstuffs in quarantine around the world. The Beagle is intelligent but single-minded. It is a popular pet due to its size, good temper, and lack of inherited health problems.
Although beagle-type dogs have existed for 2,500 years, the modern breed was developed in Great Britain around the 1830s from several breeds, including the Talbot Hound, the North Country Beagle, the Southern Hound, and possibly the Harrier.
Appearance
The general appearance of the Beagle is very nice and resembles a miniature Foxhound, but the head is broader and the muzzle shorter, the expression completely different and the legs shorter in proportion to the body. They are generally between 13 and 16 inches (33 and 41 cm) high at the withers and weigh between 18 and 35 lb (8.2 and 15.9 kg), with females being slightly smaller than males on average.
They have a smooth, somewhat domed skull with a medium-length, square-cut muzzle and a black (or occasionally liver) gumdrop nose. The jaw is strong and the teeth scissor together with the upper teeth fitting perfectly over the lower teeth and both sets aligned square to the jaw. The eyes are large, hazel or brown, with a mild hound-like pleading look. The large ears are long, soft and low-set, turning towards the cheeks slightly and rounded at the tips. Beagles have a strong, medium-length neck (which is long enough for them to easily bend to the ground to pick up a scent), with little folding in the skin but some evidence of a dewlap; a broad chest narrowing to a tapered abdomen and waist and a long, slightly curved tail (known as the "stern") tipped with white. The white tip, known as the flag has been selectively bred for, as it allows the dog to be easily seen when its head is down following a scent. The tail does not curl over the back, but is held upright when the dog is active. The Beagle has a muscular body and a medium-length, smooth, hard coat. The front legs are straight and carried under the body while the rear legs are muscular and well bent at the stifles.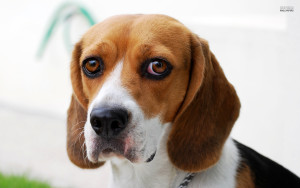 The tricolored Beagle—white with large black areas and light brown shading—is the most common. Tricolored Beagles occur in a number of shades, from the "Classic Tri" with a jet black saddle (also known as "Blackback"), to the "Dark Tri" (where faint brown markings are intermingled with more prominent black markings), to the "Faded Tri" (where faint black markings are intermingled with more prominent brown markings). Some tricolored dogs have a broken pattern, sometimes referred to as pied. These dogs have mostly white coats with patches of black and brown hair. Tricolor Beagles are almost always born black and white. The white areas are typically set by eight weeks, but the black areas may fade to brown as the puppy matures. (The brown may take between one and two years to fully develop.) Some Beagles gradually change color during their lives, and may lose their black markings entirely.
Two-color varieties always have a white base color with areas of the second color. Tan and white is the most common two-color variety, but there is a wide range of other colors including lemon, a very light tan; red, a reddish, almost orange, brown; and liver, a darker brown, and black. Liver is not common and is not permitted in some standards; it tends to occur with yellow eyes. Ticked or mottled varieties may be either white or black with different colored flecks (ticking), such as the blue-mottled or bluetick Beagle, which has spots that appear to be a midnight-blue color, similar to the coloring of the Bluetick Coonhound. Some tricolor Beagles also have ticking of various colors in their white areas.
Temperament
The Beagle has an even temper and gentle disposition. Described in several breed standards as "merry", they are amiable and typically neither aggressive nor timid, although this depends on the individual. They enjoy company, and although they may initially be standoffish with strangers, they are easily won over. They make poor guard dogs for this reason, although their tendency to bark or howl when confronted with the unfamiliar makes them good watch dogs. In a 1985 study conducted by Ben and Lynette Hart, the Beagle was given the highest excitability rating, along with the Yorkshire Terrier, Cairn Terrier, Miniature Schnauzer, West Highland White Terrier, and Fox Terrier.
Beagles are intelligent but, as a result of being bred for the long chase, are single-minded and determined, which can make them hard to train. They can be difficult to recall once they have picked up a scent, and are easily distracted by smells around them. They do not generally feature in obedience trials; while they are alert, respond well to food-reward training, and are eager to please, they are easily bored or distracted.
Health
The typical longevity of Beagles is 12–15 years, which is a common lifespan for dogs of their size.
Beagles may be prone to epilepsy, but this can often be controlled with medication. Hypothyroidism and a number of types of dwarfism occur in Beagles. Two conditions in particular are unique to the breed: "Funny Puppy", in which the puppy is slow to develop and eventually develops weak legs, a crooked back and although normally healthy, is prone to a range of illnesses; Hip dysplasia, common in Harriers and in some larger breeds, is rarely considered a problem in Beagles. Beagles are considered a chondrodystrophic breed, meaning that they are prone to types of disk diseases.
Beagle

Tricolor Beagle

Other names

English Beagle

Origin

England

Traits

Weight

Male

22–25 lb (10.0–11.3 kg)

 

Female

20–23 lb (9.1–10.4 kg)

Height

13–16 in (33–41 cm)

Coat

Short haired, hard coat of medium length

Color

Tricolor or white in combination with black & tan/brown or brown/tan

Life span

12–16 years

Classification / standards

FCI

Group 6, Section 1 #161

standard

AKC

Hound

standard

ANKC

Group 4 (Hounds)

standard

CKC

Group 2 – Hounds

standard

KC (UK)

Hound

standard

NZKC

Hound

standard

UKC

Scenthound

standard