The American Pit Bull is medium-sized, and has a short coat and smooth well-defined muscle structure. Its eyes are round to almond-shaped, and its ears are small to medium in length, typically half prick or rose in carriage. The tail is slightly thick and tapers to a point. The coat is glossy, smooth, short, and stiff to the touch. The accepted coat color can vary widely, but, both the AKC and UKC do not recognize merle coloring. Color patterns that are typical in the breed are spotted, brindled, solid, and with points.
History:
The Pit Bull Terrier was created by breeding Old English Terriers and Old English Bulldogs together to produce a dog that combined the gameness of the terrier with the strength and athleticism of the bulldog. These dogs were bred in England, and arrived in the United States where they became the direct ancestors of the American Pitbull Terrier. In the United Kingdom, pit bulls were used in bloodsports such as bull baiting, bear baiting. These bloodsports were officially eliminated in 1835 as Britain began to introduce animal welfare laws. Since dogfights were cheaper to organise and far easier to conceal from the law than bull or bear baits, bloodsport proponents turned to pitting their dogs against each other instead. Dog fighting was used as both a bloodsport (often involving gambling) and a way to continue to test the quality of their stock. For decades afterwards, dog fighting clandestinely took place in small areas of Britain and America. In the early 20th century, pit bulls were used as catch dogs in America for semi-wild cattle and hogs, to hunt, and drive livestock, and as family companions. Some have been selectively bred for their fighting prowess.
Pit Bull Terriers successfully fill the role of companion dogs, and police dogs, and therapy dog. Pit Bull Terriers also constitute the majority of dogs used for illegal dog fighting in America In addition, law enforcement organizations report these dogs are used for other nefarious purposes, such as guarding illegal narcotics operations, use against police and as attack dogs.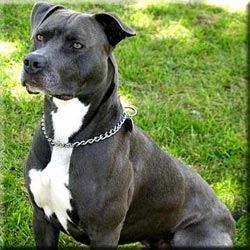 Temperament:
The essential characteristics of the American Pit Bull Terrier are strength, confidence, and zest for life. This breed is eager to please and brimming over with enthusiasm. APBTs make excellent family companions and have always been noted for their love of children. Because most APBTs exhibit some level of dog aggression and because of its powerful physique, the APBT requires an owner who will carefully socialize and obedience train the dog. The breed's natural agility makes it one of the most capable canine climbers so good fencing is a must for this breed. The APBT is not the best choice for a guard dog since they are extremely friendly, even with strangers. Aggressive behavior toward humans is uncharacteristic of the breed and highly undesirable. This breed does very well in performance events because of its high level of intelligence and its willingness to work.
Health:
The breed tends to have a higher than average incidence of hip dysplasia. Culling for performance has helped eliminate this problem and others such as patella problems, thyroid dysfunction and congenital heart defects. American Pit Bull Terriers with dilute coat colors have not had a higher occurrence of skin allergies as other breeds. As a breed they are more susceptible to parvovirus than others if not vaccinated, especially as puppies, so vaccination is imperative beginning at 39 days old and continuing every 2 weeks until 4 months old. Then again at 8 months. Once a year after that, as recommend for all breeds.
American Pit Bull Terrier

Common nicknames

APBT, Pit Bull, Pit

Origin

United States,




United Kingdom

Traits

Weight

Male

25–30 kg (55–66 lb)

 

Female

20–25 kg (44–55 lb)

Height

Male

46–49 cm (18–19 in)

 

Female

43–46 cm (17–18 in)

Coat

smooth




thin




single

Color

Red nose

Litter size

5–10

Life span

8-15 years

Classification / standards

UKC

Terrier

standard

Domestic dog

(

Canis lupus familiaris

)